Change of Parish Priest, 7 October 2016.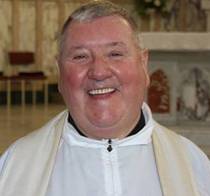 On 7 October 2016, Mgr Denis Carlin leaves us to become Parish Priest of Christ the King, Howwood, and Our Lady of Fatima, Lochwinnoch. We have benefitted greatly from his homilies, his "homilettes", and even his "rants"! He challenged us, but did it with great love and good humour.
We remember with gratitude his devotion to the sick and elderly, and his regular visits to Ardgowan Hospice. He will be particularly missed by the Staff and pupils of St Mary's School, who mean a lot to him.
"What will you miss most about St Mary's, Father?" someone asked him. He immediately replied, "The weans!" Then "The weddings … the baptisms…" Having served in Greenock in the Seventies, when he was chaplain to St Saviour's and St Columba's, Fr Denis already knew many people in the town when he arrived at St Mary's in October 2008. He confided that when he distributes Holy Communion at Mass he is praying for those who come to him, remembering marrying them, baptising their children, burying their dead … sharing in their lives.
Thank you, Fr Denis, for your eight years of devoted service as our Parish Priest. We will miss your cheerful, smiling presence … and your singing. We wish you every blessing in your new appointment. Know that you take with you our love, and the assurance of our prayers.

_______________________________________________________________________________________________________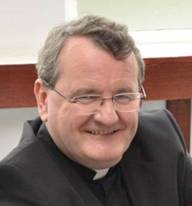 A warm welcome to our new Parish Priest, Rev. Thomas Boyle, Dip. Theol., M.Ed, MBA, whose appointment officially dates from 12pm on 7 October 2016, Feast of Our Lady of the Rosary. Born in Glasgow in 1962, Fr Tom grew up in Linwood, where he attended St Brendan's High School. He studied for the priesthood at St Patrick's College, Thurles, Co. Tipperary, and was ordained by Bishop Stephen McGill on 29 June 1986 in St Conval's, Linwood.
His appointments to date include:
St Columba's, Renfrew, 1986-1991;
St Ninian's, Gourock, 1991-1996;
Scotus College, Bearsden, 1996-2000 (Spiritual Director);
St Joseph's, Clarkston, 2000-2002;
St Joseph's & St Patrick's, Wemyss Bay, 2002-2008;
Our Lady of Lourdes, Bishopton, 2008-2016
In addition to his other academic achievements, in 1993 he gained a qualification from St Andrew's College, Bearsden, as a teacher of Religious Education (PGCE).
He has also served as Press Secretary to Bishop John Mone, 1990-1992;
Diocesan RE Adviser, 1992-2000;
Vicar Episcopal for Education, 2002-2006;
Diocesan Treasurer, 2006-2013;
Assistant General Secretary to the Bishops' Conference of Scotland, 2013-
Fr Tom says: "During the summer of 1985 I spent five weeks as a Deacon in St.Mary's Greenock. I wonder how many will remember me!"
Welcome back, Fr Tom. We hope you will be happy among us in St Mary's, and will find us a friendly and supportive community.