John Davidson, founder of the Greenock Mission
When John Davidson was sent to open the Greenock Mission in 1808, he was a mature and experienced priest in his early forties.
He was born around the year 1765 in the Enzie district of Banffshire, an area which had remained Catholic despite the Reformation, and supplied many priests for the Scottish Mission throughout the eighteenth century.
As a young boy Davidson spent two preparatory years (1777-1779) at the "hidden seminary" of Scalan in the Braes of Glenlivet. He continued his studies in Spain, at the Royal Scots College in Valladolid. Spain and Britain were at war at this time, and sea communications were disrupted. John and his three companions set sail from Edinburgh in a Portuguese ship, and were eleven weeks at sea before arriving in Portugal. They were met by an agent who described them as "very sprightly yet very innocent". He obtained passports to allow them to enter Spain, and sent them on overland to Valladolid – four fourteen-year-old boys all on their own on a big adventure!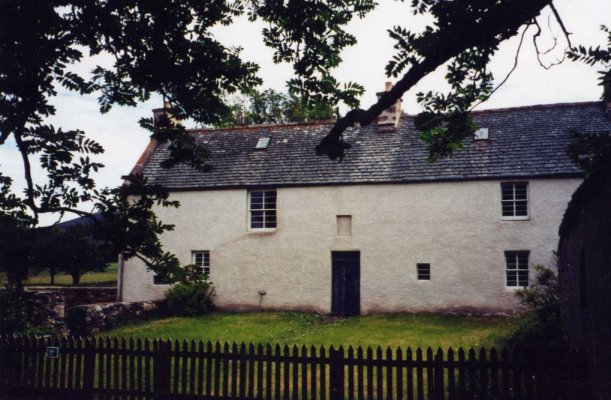 Scalan, the "hidden seminary" in Glenlivet.
John spent the next eleven years in Spain. This was the timetable of the College:
"The students were to rise at 5 a.m. (6 a.m. in winter) and, after thirty minutes for 'putting on their Clothes, combing and, if they have time, washing themselves,' there were morning prayers, meditation, litany of the Holy Name, and Mass. Meals were at 8 a.m., 12 noon and 8 p.m., the other hours being occupied with classes, private study, various spiritual exercises, recreation and walks. At 9.30, the litany of Loreto, an examination of conscience and the points for the following morning's meditation concluded the day."
(From Bishop Geddes' Rulebook, 1778)
Let us hope that the students had time to wash themselves at least on some mornings! It is interesting to compare all this with the formation of seminarians in the 21st century.
We get an interesting glimpse of John midway through his course when he was one of five outstanding students who were called on to give a public demonstration of their proficiency in Latin, Greek and Hebrew to impress a wealthy Spanish benefactor of the College.
John returned to Scotland in 1791 and was ordained priest in Edinburgh.
He worked in his native north-east for twelve years, then, after a spell of seminary teaching, he was sent to Greenock to open a new Mission, towards the end of 1808.
AuchendounCastle. John Davidson spent ten years in this area.
He said Mass in a rented hall for a congregation of about a hundred. They were not all Greenock residents, for there was a sizeable "floating population" (literally!) of visiting sailors and fishermen from the busy port. To help support himself he gave Spanish lessons in a local school.
John Davidson began a collection to build a church and school. He acquired a site in East Shaw Street, which at that time was right on the edge of town, surrounded by market gardens. Building began, but sadly, before it was completed. the priest died on 8 January 1815.
He was buried in the Old West Kirkyard, which at that time was the town's only burial ground. Later, when the kirk was moved to its present site, his remains were re-interred in Greenock Cemetery. In the same grave lies M. Lemonnier (or Lemoine), one of the French priests who came to Britain as refugees from the Revolution.
John Davisdon's obituary in the Greenock Advertiser calls him "a man of unaffected piety, assiduous in his duty as a clergyman, benevolent and attentive to the poor."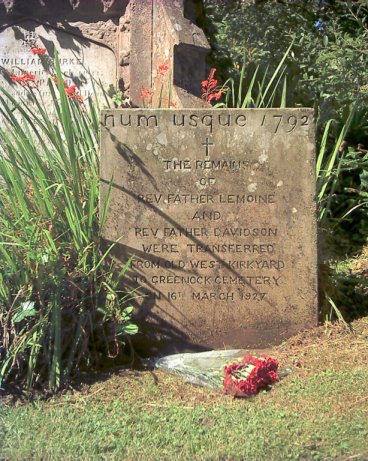 The "Priests' Stone" in Greenock Cemetery.