GOODBYE MGR JOHN; WELCOME MGR DENIS
With great sadness we say farewell to Mgr John Tormey, as he takes up his new appointment as administrator of St Mirin's Cathedral, Paisley, with effect from 31 October 2008.
During his eight years as Parish Priest of St Mary's Mgr John has earned our affection and respect by his prayerfulness, his hard work and his zeal in carrying out his duties.
On his arrival in September 2000 he shouldered the burden of completing the restoration of our church building, a project begun by Fr Andrew Carroll. This he undertook with great enthusiasm, and although suffering many a headache on the way, with his drive and attention to detail he saw the project to conclusion in a way that gave immense satisfaction to all.
Mgr John introduced several initiatives to foster the spiritual growth of the parish – more frequent exposition of the Blessed Sacrament, evening prayer on Sundays, programmes of talks.
With his special love for children and young people, he took great delight in his visits to St Mary's Primary School, attended the sick devotedly, always had time to listen – a comforting presence for anyone in any kind of distress.
He will be missed, not only by St Mary's Parish, but by ministers and members of other local churches, with whom he forged strong links.
We shall remember Mgr John's oft-repeated dictum: At the Judgment, the Lord will ask us only this – Whom have you loved? How much have you loved them? It became obvious to us that this is the guiding principle in his own life.
When Mgr John arrived eight years ago, he said in his first parish newsletter: "Please pray for me that I may do the Lord's work here in St Mary's with love and generosity of heart." Monsignor, you have done so, and we your parishioners thank you. We will remember you in our prayers with love and gratitude. Thank you for reminding us so often that we "are God's beloved children". May God bless you richly in your new post at the Cathedral.
_______________________________________________________________
We warmly welcome Mgr Denis Carlin as our new Parish Priest. Mgr Denis brings a wealth of experience to his ministry at St Mary's. Born in Barrhead, the eldest of four children, he grew up in Paisley, attended junior seminary at Langbank and Blairs, and the day after his eighteenth birthday began his studies at the Pontifical Scots College in Rome. After the usual courses of Philosophy and Theology he specialised in Moral Theology.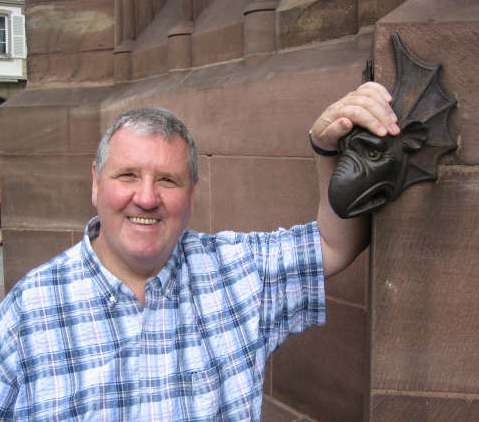 Ordained priest in St Mirin's Cathedral on 29 June 1974, he served in St Conval's, Linwood, and St Andrew's, Larkfield. During seven busy years at St Andrew's he was chaplain to the old Larkfield Hospital, and then to the "new" IRH. He was also school chaplain to St Saviour's Primary and St Columba's High. He was in great demand as a performer at the famous St Columba's PTA Burns suppers.
1985 saw a move to Chesters College, the newly-formed inter-diocesan seminary in Bearsden, where he served for six years as Pastoral Director. While there he attended summer schools at the University of Notre Dame, Indiana, USA, graduating with a Masters Degree in Liturgical Studies.
There followed fourteen years in Spain as vice-rector, and then rector of the Royal Scots College in Salamanca, being named monsignor in 1999. While at Salamanca he took the opportunity, he says, to study Canon Law "for fun". He is a member of the Canon Law Society of Great Britain & Ireland and of the Canon Law Society of America. (He asks: "Does that make me sound totally boring???")

At the end of his time in Spain Mgr Denis was granted a sabbatical year, which he spent between Tantur Ecumenical Institute in Jerusalem and the Catholic University of Leuven in Belgium.
He is currently Director of Liturgical Music for the Diocese of Paisley. Among other posts, he is Vicar Episcopal for Ecumenism & Vicar Episcopal for Religious. He is also a Knight of the Holy Sepulchre.

Mgr Denis says: "For the past two years on my return to Scotland I have been a very happy parish priest in St Peter's, Glenburn, Paisley. After a lot of wandering - and the odd bit of education - I am very happy to be returning to Inverclyde and feel honoured to have been named parish priest of St Mary's, Greenock."
We hope Mgr Denis will be happy among us in St Mary's, and assure him of our loyalty and support.